Rainbow Wave Art - Dichroic Glass Originals
www.rainbowwaveart.com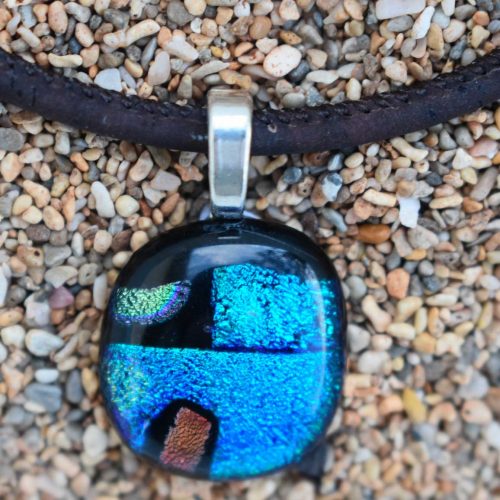 Kiln fired dichroic glass wearable art. Rainbow Wave Art uses photo voltaic panels (solar) to power their kiln, putting a little Kauai sunshine into pieces created in their Port Allen home studio. All pieces are one of a kind and as colorful and original as you. Pendants are etched "Kauai" on the back. Wine stoppers, key chains, bookmarks, pendants, mini pendants, earrings are inspired by the colors appearing in the sky, land, waters of Kauai. Pieces include a gift bag, pendants include a vegan cork necklace, mini pendants include a cotton cord necklace.
Find Rainbow Wave Art on display Sunday afternoons at the Lihue Marriott, or Wednesdays/Thursday mornings at the Poipu Sheraton. Inquire via phone/text/email for our current (next) artisan fair locations. Due to the nature of one of a kind art, we happily communicate for remote purchases by sending photos of our current stock – simply inquire, and we'll work with you to find or create a piece as original as you.
Rainbowwaveart.com rainbowwaveart@gmail.com or 808-482-4831 (suggested to call/text between 7am-7pm HST)
* Shipping is currently $8 for as many items that fit into a USPS flat rate box (subject to change).