About Kauai Made®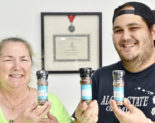 Kauai Made is a program created by the County of Kauai to officially represent the products made on Kauai, by Kauai people, using Kauai materials.
This web site provides information on the types of Kauai Made products available, their product makers, and the retailers who carry them. Each company has been reviewed and qualified to carry the Kauai Made logo under County ordinance, based on their authenticity and quality as a local product.
Planning a trip to Kauai? Look for the Kauai Official Shopping Guide at the airport and kiosks around the island.
Do you have a great Kauai Made product? Apply to join the Kauai Made program today!