Wailua Granola Co.
www.wailuagranolaco.com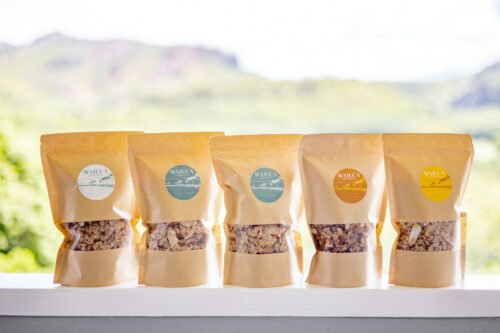 Wailua Granola Co. was established in 2020 when founder, Taleea, decided to turn her hobby into a business. It happened almost on accident but has grown exponentially in the past 2 years. Taleea started making her own granola years prior, when she couldn't find a granola that her entire family enjoyed. Too sweet, too hard, too many 'unknown' ingredients were some of the issues she encountered.
At Wailua Granola Co., a conscious effort to incorporate local ingredients such as Kaua'i grown coconut, harvested and husked by a local tree trimmer and raw local honey sourced from Anahola are used to promote sustainability, freshness and quality into each granola blend.
Currently, there are five core flavors and seasonal granola blends along with other oat-based products such as Overnight Oats, 'Ola Bites'- oat, date and almond based vegan dessert, and Granola Spread that are typically offered online or exclusively at pop-up events and markets.
Wailua Granola Co. can be found at retail locations, island wide, at pop up events and markets, online through their website and are currently building a food trailer which will serve as a retail location and pick-up hub!
Mahalo