Wailua Granola Co.
www.wailuagranolaco.com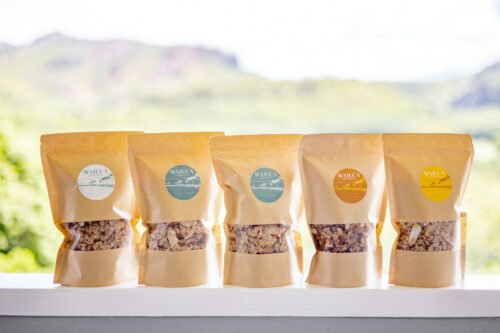 Wailua Granola Co. was established in 2020 when founder, Taleea, decided to turn her hobby into a business. Taleea started making her own granola years prior to starting Wailua Granola Co., when she couldn't find a granola that her entire family enjoyed- too sweet, too hard and too many 'unknown' ingredients were some of the issues she encountered.
At Wailua Granola Co., a conscious effort to incorporate local ingredients such as fresh Kaua'i grown coconut, harvested and husked by a local supplier and raw local honey sourced from Anahola are used to promote sustainability, freshness and quality ingredients into each granola blend.
Currently, there are five core flavors- Original, Macnut, Granola Brittle, Cacao and Peanut butter. In collaboration with a local fruit dryer, Wailua Granola Co. also has a Trail Mix using Uncle Mikey's dried banana coins and cacao coconut candy which serve as the sweet element in their trail mix.
Wailua Granola Co. granola blends can be found at retail locations island wide, online and purchased in person at their new spot, The Granola House! Find them at 3-3601 Kuhio Hwy. Lihu'e.
Mahalo Nui Loa