Hawaiian Palm Baskets
www.HawaiianPalmBaskets.com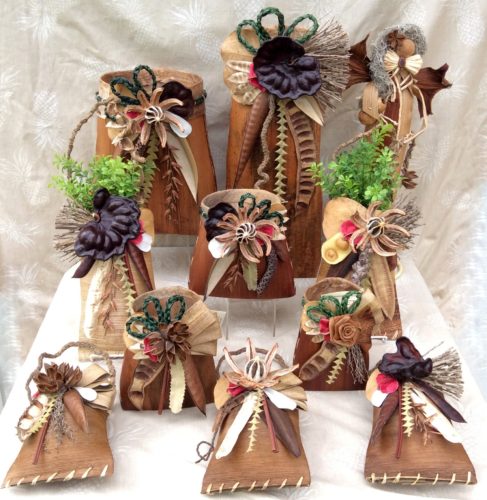 Handmade on Kauai by me, Amy Christmas and my husband Ron. We have been creating and perfecting them for more than 20 years. The baskets are assembled from a wealth of recycled local plant materials. The primary element which forms the basket itself is the base of a single palm frond. There are several varieties of palms we use, each offering a different size, color, and texture. The baskets are also adorned with unique combinations of other indigenous plant parts including leaves, pods, fruits, branches, and flowers.
The natural earth-tones accentuate any decor while the various sizes offer endless possibilities for display. They are "Pieces of Paradise" made with Aloha that reflect the beauty of the "Garden Isle" and will truly be treasured by all who receive them.
Every item has a tag attached which lists all of the "elements"used in creating it specifically along with the Kauai Made logo. We don't feel the baskets need to have a particular use other than decoration, but the possibilities for use are limited only by imagination. The baskets are light-weight yet durable, long-lasting, and can be shipped reasonably or hand-carried to anywhere in the world.