Noe's Creations
www.noescreations.com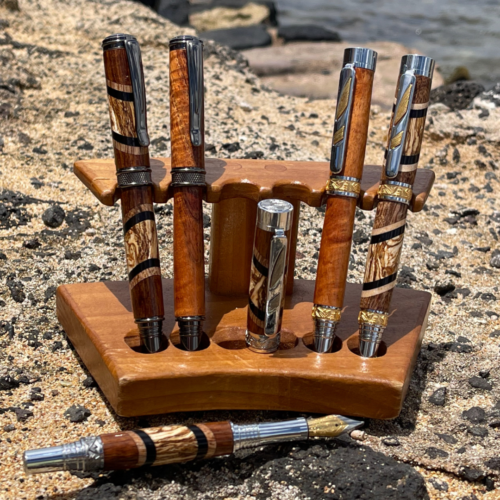 An Ohana(family) of artists inspired by natures gifts, Herb, Krystyna and their ohana have been creating custom wood and jewelry creations in Kalaheo on Kaua'i for 20+ years.
Inspired by the beauty of Kaua'i, these artists enjoy many hours of creating trendy or special customized pieces.
We create top of the line writing instruments, letter openers and jewelry made from reclaimed woods. Herb finds a variety of woods on nature walks and breathes new life into each piece as he adds his custom mixed resin colors to the exotic woods. These beautiful one of a kind, useable, works of art can be gifted or kept to be reminded of Hawai'i and all its beauty.
All of our handcrafted jewelry can be customized in your choice of precious metals. Each piece is individually handcrafted and can be paired with Tahitian black pearls, semi-precious gemstones or fossilized shark teeth.
When surfing the web, Please visit our website at NoesCreations.com. When surfing on Kaua'i, you can visit us at seasonal artisan craft fairs and at the Kilohana Plantation as a guest of Luau Kalamaku.
We look forward to helping you find your special gift from Kaua'i.
Me Ke Aloha Pumehana~