Kauai Handmade
www.kauaihandmadejewelry.com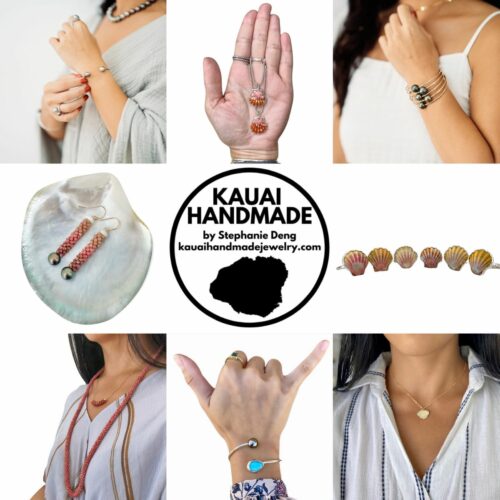 I fell in love with Kahelelani shells after learning about the history behind them and their worth. I decided to start collecting them for fun but soon introduced my very first jewelry collection made of these precious shells in 2018. Creating unique pieces has always been very important to me and by teaching myself the traditional stringing methods through trials and errors, I finally perfected my shell lei making skills in 2019. After spending some one-on-one time with a top notch goldsmith and a ton of practice, I started working with precious metals, pearls and gemstones along side with shells. Today, some of my favorite designs are made with a combination of shells and metals. Our first brick-and-mortar boutique opened at Coconut Marketplace in Kapaa in 2019.
-Stephanie
Founder & Bench Jeweler
Boutique Address:
Coconut Marketplace
(located near Island Country Market)
4-484 Kuhio Highway,
Kapaa, HI 96746
Hours of operation:
Mon-Thu: 11am to 2pm & By Private Appointments.