Kaua'i Family Magazine
www.kauaifamilymagazine.com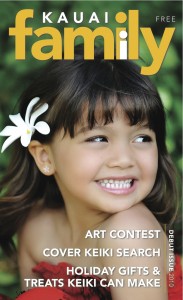 Kaua'i Family magazine is Kauai's best resource guide for parents raising smart, happy, healthy children on Kaua'i. Each issue provides parents with key information on health, education and safety, child-rearing and quality family fun.
Kaua'i Family is distributed as a quarterly complimentary magazine available at schools, daycares, hospitals/pediatrician/pediatric dental offices and community organizations.
Each issue of Kaua'i Family focuses on unique activities and events that inspire Kauai's busy parents to spend time with their children in meaningful, memorable ways. Stories explore the well being of the family, including health, education, activities, shopping, etc.
Enjoy new features from Kauai's experts on
early-childhood development and 21st-Century Learning.