Aloha Island Essentials
brendaboorman.com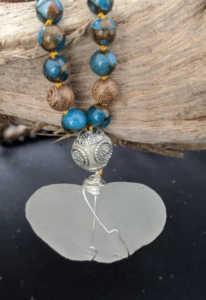 Aloha Island Essentials offers handcrafted gifts of the land and sea.
Our gifts of the land celebrate the Aloha Spirit in beautifully designed Mala necklaces. Mala in Sanskrit means "garland". Crafted with gemstones, pearls, Koa and Rudraksha strung on silk and hand knotted.
Custom designs available upon request.
Spending several hours combing our shores, our gifts of the sea provide us with naturally tumbled sea glass, enabling us to create one of a kind wire wrapped necklaces and pendants.
Sea Glass is well regarded as a symbol of renewal and healing, a metaphor for life. Sea Glass is simply glass, originally a bottle, dish or favored decorative object, no longer needed because it has served its purpose, outlived its usefulness or is broken and tossed in the trash. Numerous times it's washed up onto the beach, only to be stolen again by the tides and waves and returned to nature's own giant tumbler.
Visit us on Instagram at brendaboorman